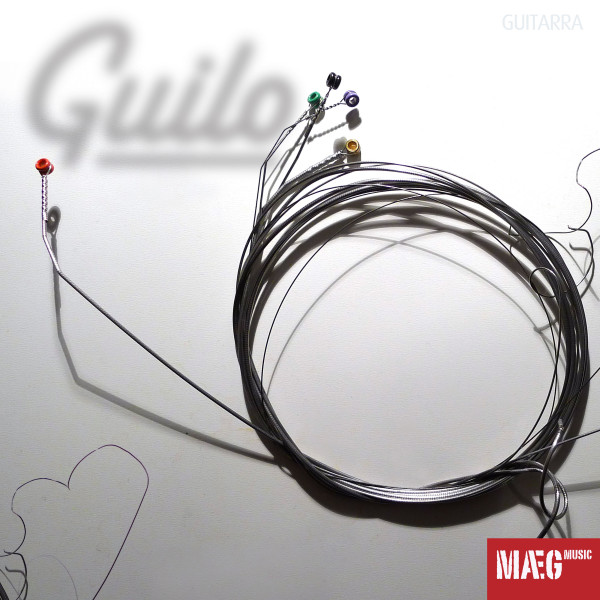 Guitarra
by

Guilo

Guilo (Si Christophers) continues his foray into the world of modern classical meets folktronica with Guitarra, his second album. The set comprises the last three singles, Family, Falaise Pocket (b side Mulberry Harbour) and Light and Weight (b side Ruby of Cocundo) with 3 new tracks. 

The three new tracks feature ambient flautist and sound-smith Katie English aka Isnaj Dui – who conveys a minimalist sound using flutes, home-made dulcimers and electronics – and who here casts a bewitching air over the pieces. Alchemising Guilos gentle, naturalised electronica into a twisted folktronica. 

After opening with a haunting piped refrain, evocative of a late night ferry, Terminal is shackled and tethered (rather than driven) by a rumbling  and foreboding prepared zither played by Christophers, the notes ebbing and flowing like the eddies of a malevolent marina. Emmie Wards haunting vocals twist with Isnaj Dui's electro-acoustic drones, ride cymbal splashes conjure ghost ships moored.

The mood warms somewhat on the improvised Incompleteness Theorems with some nice interplay between Si Christophers zither playing and Katie English's flute – whilst some Arlet and North Sea Radio Orchestra influences creep in, it is still very much an idiosyncratic sound. Dominated by a modern minimalist stance. Overall Incompleteness Theorems sounds strangely familiar – even homely, however incomplete the theorem maybe.

The disjointed unease of  sharp and natural notes vibrating (laconically), stuttering and stammering at the outset, set out the stall on Financial Collapse – gradually aligning to form some semblance of a sequence or sentence. And what a depressing sentence its likely to translate to… for when a trio of voices finally appear and build a choral wail over the proceedings, you know we are being led to the inevitable, aforementioned Financial Collapse. Somehow we are denied this (darn it!). Failing to fall over that precipice.. instead the listener is cast ashore to a kind-of–calm, just marooned in a quietness. A quietness that does little to truly soothe, just mask some of the pain.

It the uneasiest easy listening this side of Easter

Good luck!

What others have said:

"Reflective soundscapes for the thinker"

And:

London based artist Guilo presents an instrumental set of modern classical folktronica. Inspired by a road trip through French Normandy, this is a pastoral, demi-orchestral reflection of war mementos encountered along the way.

Mulberry Harbour, like its namesake in Arromanches, is timeless and almost magical. Guitar chords are wrapped in enchanted percussion and brass, set against waves of warm familiarity. Falaise Pocket weaves a mood of urgent trepidation with guitar, French horn and chimes. Oscillating between strength and weakness, confidence and fear, we are left somewhat afloat, without a sense of resolution or closure.

 The two sides burst with pastoral and sacred sounds performed with a host of friends from the more-cultured music scene in London.

Of note, Light and Weight culminates in an anthemic, triumphant fanfare, while Ruby of Cocundo pulses with cinematic aplomb to a climax of peals of trumpets and French horn.

And even!

Beautifully mastered by Mark Beazley (Rothko), the 8 pieces are mixed expertly for hi-fi or headphone listening. Introspective, weird modern/medieval music. You could call it Mead Hop. Or maybe not.
credits
Simon Christophers: Acoustic and electric guitars, zither, programming and production
Alice Westlake: Clarinet
Riketté Nefertiti Genesis: Vocals
Rebecca Carrington: Vocals and cello
Emmie Ward: Vocals
Frank Biddulph: Violin
John Eacott: Trumpet
Oliver Cherer: Xylophone and angelharp
Guest artist: Isnaj Dui (3 tracks)
Mastering: Mark Beazley