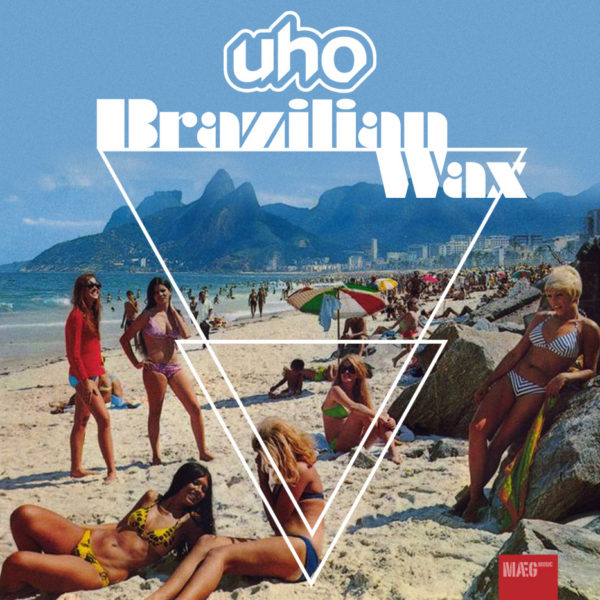 Brazilian Wax
by

U.H.O.

9 tracks with that all important latin twist – compiled here on UHOs 3rd long-player. Each production stars guest vocalists and featured performers from Londons nu jazz scene.

Rebecca Carrington leads the outings two cover versions, both from the A C Jobim songbook – Ah Insensetaz (So Insensitive) and Oh Amour Em Paz (Once I loved) . Rebecca Carrington is a much in demand session vocalist and cellist having worked most recently with London based nu jazz luminaries 4Hero, Ty and Zero 7

Next up, Alex Chance, who has previously recorded as Alex MacLaine for Talkin' Loud, EMI France and Yellow Recordings – has toured in Brazil, France and Spain and now joins forces with UHO writer/ producer Simon Christophers in south Lambeth. Together they form a versatile songwriting/ production duo. Latin inspired soul jazz stanza Keep Smilin' is the result.

Centred around the 'Little Portugal' area of Lambeth, UHO's compositions reflect the street sounds of his locality and the escapism of his mentality. Arrangements, orchestration and melody rule the day – with each production unfolding mystery and depth on each play.

Maeg will be exploiting an extensive back catalogue of singles and EPs (both instrumental and vocal) which host a weight of featured artists and timeless production.
Previous press for UHO:
"I love the music comin' outta the UHO" – Teddy D (Basement Boys)
"Deep production and strictly jazzy vibes with that all important latin twist" – Phil Cheeseman (Strictly Rhythm)
"Too, too deep" – DJ Alex from Tokyo
"A future classic from Recreation Records (UK), English eccentricity flavours the new world sunshine of 'Miami Flight'. 'Strange Lines' on the flip picks up the laidback thread while adding some subtle d&b action." – IDJ Magazine
"Live sounds come to the fore on this strong, slice of Latin-flavoured dance. Breakbeats and acoustic guitar give a haunting sun-kissed quality to the b-side, Strange Lines." – Music Week
"Downbeat recommended: UHO's Miami Flight a strange, soulfully chilled trip." – XLR8R Magazine
"UHO make beautifully different music. Two tunes with a jazz edge that defy categorisation. It's the atmosphere that gets you." – www.tunes.co.uk
"Technojazzmusik for spy kids!" – www.musicmarkt.de
"This is simply intelligent, tuneful electronica." – Technics Dance Update